VINYL WRAP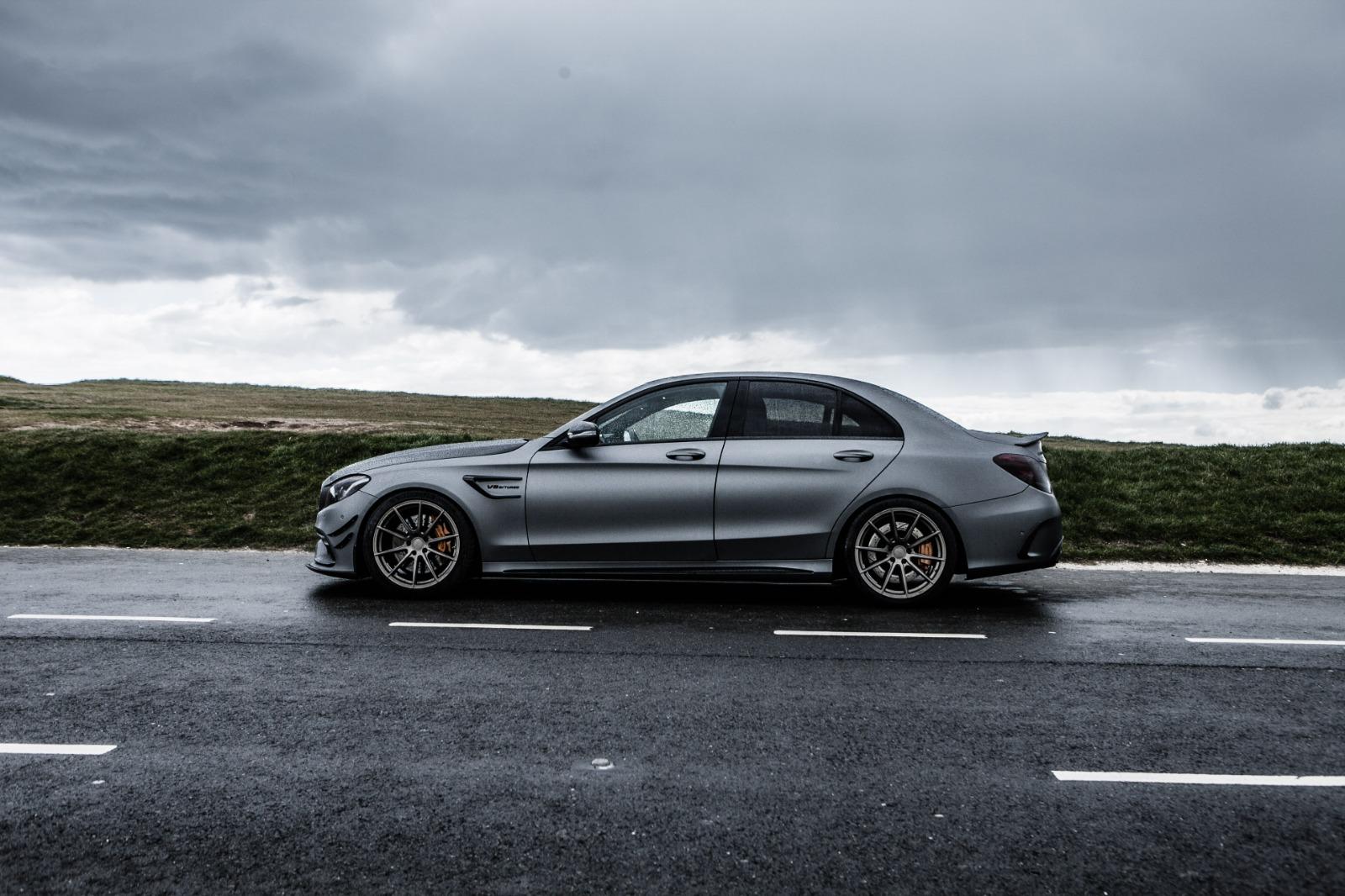 Vinyl technology has evolved over the years and is now a viable alternative to a re-spray. Thanks to the non-destructive nature of the process vinyl wraps allow the ability to revert back to the original paint finish if required, meaning that future resale value is not compromised. Vinyl wraps can also act as a protective shield against weathering, scuffs, and stone chips to the original paintwork.
We also offer lighter touch packages for vehicle owners looking for small vinyl detail in certain areas of the car, such as de-chroming or black pack detail.
Our wrapping bay is purpose built facility consisting of a dust-free closed-cell, extensive surround lighting, precision wrapping tools, and temperature control to ensure vinyl is optimised before & during application. Arkham uses only high-end vinyl suppliers and can offer matte, gloss, satin or even chrome finishes.
Pricing varies as much as customers specifications do so whether that be a complete exterior wrap plus the addition of all door shuts & returns, a complete external only colour change or simply a roof or wing mirrors for example.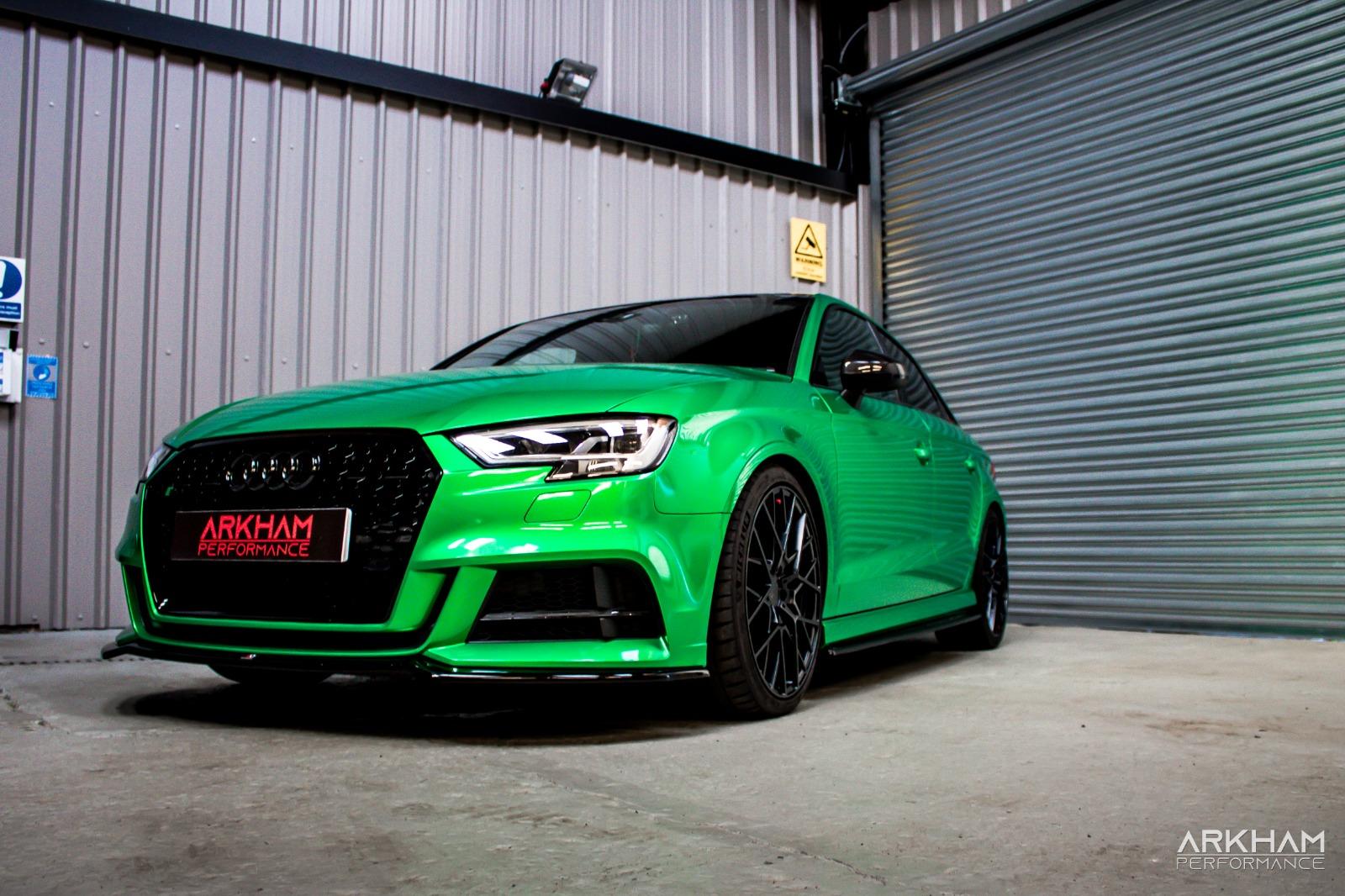 Services we offer
Full exterior only colour change
Full colour change including door shuts & returns
Bonnet / roof (single panel) colour change
Head / Tail light tinting
Specifics That Affect The Price of a Car Wrap
No two car wraps are the same as every vehicle on the road will be in a different condition, consider the following points:
The size of the vehicle – in general, a small car such as a Ford Ka will be cheaper than a huge 4×4.
Number of doors – For when a total colour change is required (known as shuts & returns).
The complexity of the vehicle surface – even small cars can have lots of curves, lines, grooves and other complex design features that increase the time needed to complete the wrap.
The condition of the existing paintwork – vinyl will not adhere to rust and any existing dents or deep scratches on the surface of the vehicle will still be visible through the new wrap.
Aftermarket parts fitted – any aftermarket sills, spoilers, bumpers or other aftermarket parts will increase the time it takes to complete the project.
Any existing vinyl or graphics fitted – a new vinyl wrap can only adhere to paintwork in good condition, any existing graphics or vinyl will need to be removed.
The type of vinyl wrapped on the car – the cheapest vinyl is an off-the-shelf solid colour. Chrome, satins and two-tone colours cost more with custom-designed patterns costing considerably more.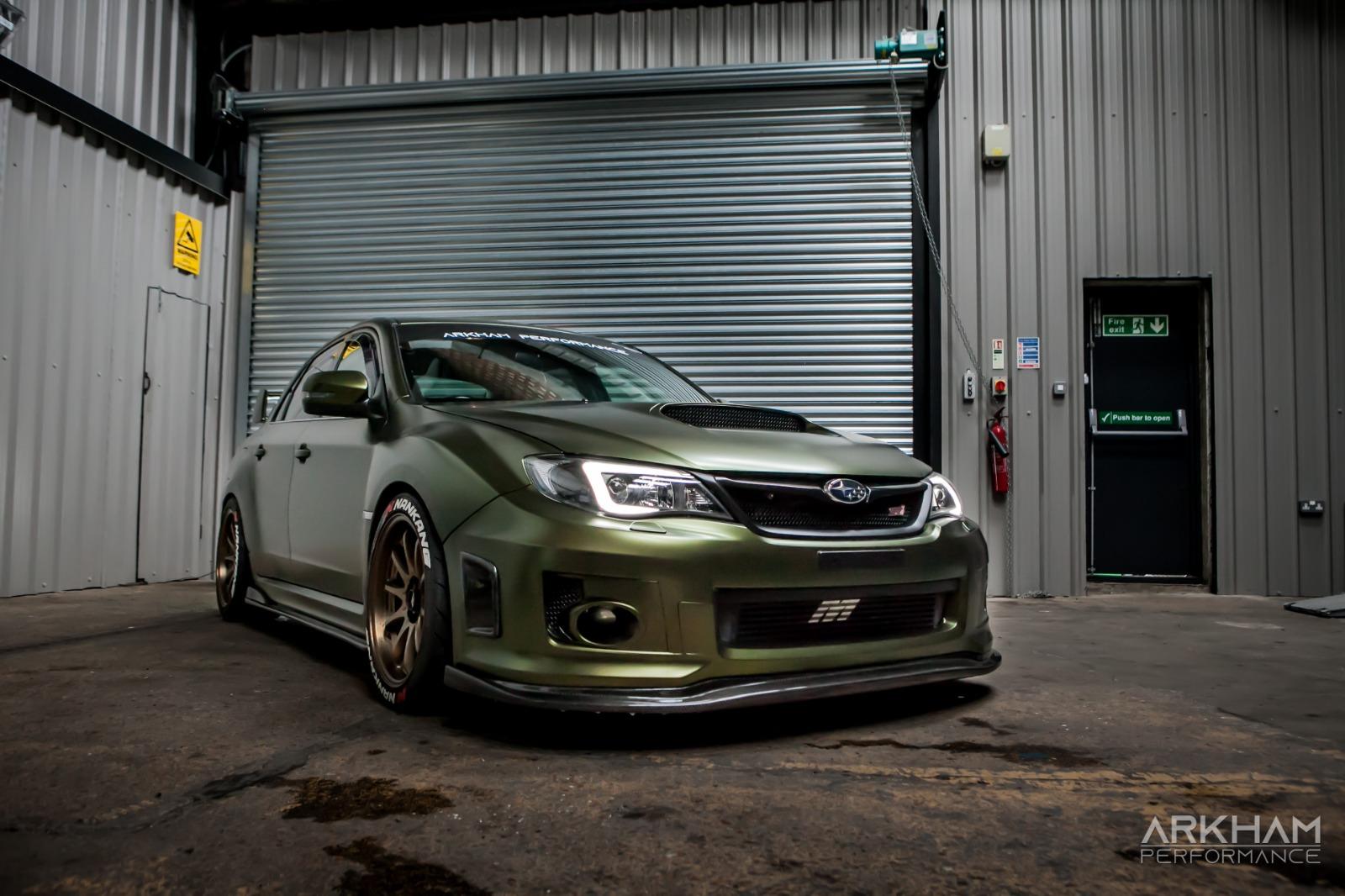 Approximate Pricing
Here at Arkham Wraps we price each car individually as the requests from customers vary massively whether that be a race car exterior livery through to a full colour change on say a Porsche 911. However to give you an idea of what we do for the cost here's a brief breakdown to illustrate it more clearly;
2017 Ford Focus RS (4 DOOR INC SHUTS & RETURNS)
Full colour change including all door shuts & returns from nitrous blue to gloss red metallic in 3M or Avery vinyl which would include doors, bumpers, skirts & lights being removed & reinstalled.
Approximate cost … £2,750-£3,000 inc VAT
FIAT 500 (2 DOOR EXC SHUTS & RETURNS)
Exterior colour change excluding door shuts & returns from White to Yellow 3M or Avery Dennison
Approximate cost … £1,600 inc VAT
2011 BMW E92 M3 (2 DOOR EXC SHUTS & RETURNS)
Exterior colour change excluding door shuts & returns from black to 3M or Avery Dennison satin grey
Approximate cost … £2,250 inc VAT
*Please note these prices are inclusive of a full vehicle detail & preparation inc valet (inside & out), prep wash & clay baring before application of the vinyl. We also remove things like arch liners, badges & trims where appropriate to enable a better long lasting finish. All prices are subject to change in accordance with material used & exact specifications of the customer so its always best to get in touch.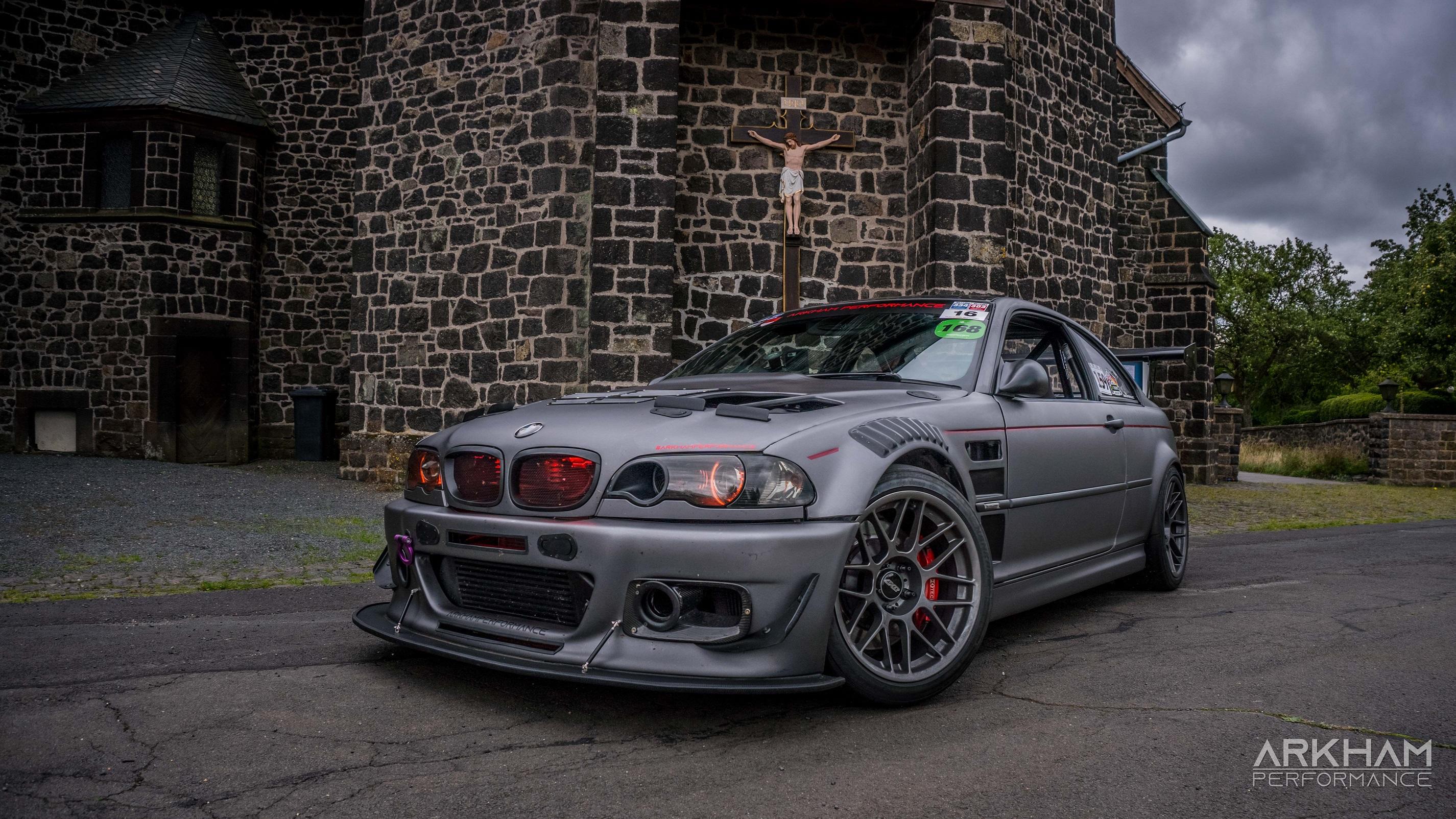 Do Also Consider…
Our car wrapping prices do not take into account any repairs to the existing paintwork and do not include the cost of removing the vinyl wrap.
Does Car Wrapping Cost More or Less Than a Respray?
In general; a cheap low-end respray is cheaper than an average car wrapping cost but a good quality respray costs more than a good quality car wrap.
Of course, a car wrap is only temporary and can be removed but a respray is permanent and a bad respray can cost a lot to rectify.
Cost to Remove a Car Wrap?
If we have wrapped your vehicle then we insist you bring it back to us to have the wrap removed properly as there is a process to this so as not to damage the paint underneath. Inexperience of the product or techniques can result in some serious damage being caused to your vehicle. We usually charge around £600 to completely remove a FULL colour change wrap from a vehicle but this depends on exact requirements.
How difficult is it to remove a car wrap?
It's not easy to remove a car vinyl wrap, a heat gun set to a specific temperature is first used to soften the material, the sticky residue is then removed with liquid and chemicals that are designed to protect the paint. The process is slow and to avoid damage to the paintwork, requires care and expertise.
Does car wrapping protect the paintwork?
Yes, but only if installed and removed by a professional. There are other, better, ways to protect paintwork such as waxing and translucent spray paint.
Can a car wrap be used to cover and hide scratches, rust and other surface imperfections?
No, a vinyl wrap should only be used on sound paintwork. Any existing rust will likely spread under the vinyl and scratches/dents will still be visible through the thin layer of vinyl as the material is essentially thinner than the average human hair & thus also shows imperfections pretty easily.
How long does a vinyl wrap last?
A car vinyl wrap is only temporary and most will last around 5 years
How does car wrapping vinyl adhere to the car's surface?
The vinyl is manufactured in rolls with a sticky back tape which is removed just prior to installation, the mild adhesive is just enough to secure the vinyl but not strong enough to damage the paintwork.