WHEEL ALIGNMENT
Often known as tracking or geometry, wheel alignment resets your car's wheels to their optimal position as per the manufacturer's original requirements and ensuring correct handling and even tyre contact.
Symptoms of poor wheel alignment include unpredictable steering, vehicle veering to the left or right, unevenly worn tyres and often decreased MPG. Given the poor state of UK's roads we advise that alignment is checked annually or every 10,000 miles.
For fast road or track specific alignment we can configure to customers exact specifications or use our extensive model database to give the car the desired handling behaviour on private tracks and circuits.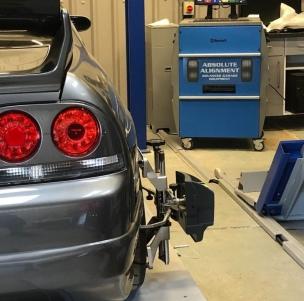 We use the Absolute Alignment four wheel laser alignment system which allows us to see extremely precise alignment data. All four wheels are independently inspected and adjusted accordingly. We provide print outs showing the data before and after the alignment.
Wheel alignment is an extremely important but often overlooked process, and can transform a cars handling.
Pricing starts from as little as £100 inc VAT ranging up to £168 inc VAT (depending on the amount of adjustments required) for a full four wheel alignment including before & after print outs.